WHY CHOOSE US?
We specialize on the unique requirements of asbestos, mold, and lead remediation and renovation. C.A.S.I. understands the science and health issues associated with all three areas. This provides the foundation upon which to build the utmost of quality and unparalleled services throughout Michigan. Due to our diverse project experience, we can assist our clients and customize remediation processes to quickly, effectively and efficiently resolve the problem.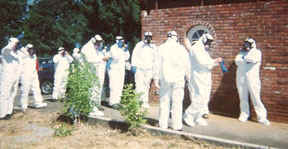 As always, we offer trained, competent and experienced professionals. Safety is the key to our success. We will ramify the problem without contaminating workers or building/residence occupants. We highly recommend final air testing in order to ensure that decontamination has been effectively delivered. This provides proof that cleanup has been successful.
C.A.S.I. has over 18 years experience!
C.A.S.I. has established its reputation by doing the job right. We pride ourselves in the delivery of outstanding client relations and complete job satisfaction. We build relationships….your satisfaction is our next client. So rest assured that we handle your project with superior and exceptional professionalism.
We offer the ability to diagnose/investigate/evaluate and remediate the problem and develop the appropriate remediation strategy.
C.A.S.I. has integrity and expertise in the asbestos, mold, and lead remediation arena. Our vast and diverse experience allows our trained professionals to deliver on our promise…to quickly, effectively and efficiently remediate and secure a safe environment C.A.S.I. has over 16 years experience. We are unique in this industry because we are family owned and operated. You will find our services to be hassle free and convenient. Let us improve your indoor environment today.